30 Before 30
In honor of my upcoming 30th birthday, I've researched countless "things to do before 30" lists. And while there are plenty to choose from, I kept coming back to "Thirty Things Every Woman Should Have and Should Know by the Time She's 30."
The List was originally published in Glamour by columnist Pamela Redmond Satran in 1997. Over the next 30 weeks, I'll be tackling each item on The List and reflecting about it here… publicly (gulp). I hope you enjoy and we can grow together. After all, turning older is a privilege denied to many.
By 30, you should know…
18. How to quit a job, break up with a man, and confront a friend without ruining the friendship.
Well isn't this week's List item just a bowl of sunshine?
I could keep my response as brief as this: If you've mastered any of these techniques, please let me know.
Instead, I'll do as I do, and share a few (mostly unsuccessful) experiences of my own…
My parents taught us to never quit — if you commit to something, you see it through. So perhaps this lack of practice in my adolescent years could explain why I'm quite awful at quitting a job.
Example 1: I left my college retail job for a call center job (making double what I did at the mall), only to confirm within a few weeks that I was not meant to be in customer service or scripted phone calls. I was very fortunate to find an external role just two months later, which put my degree to use and was sure to grant me more success. The problem? I needed to start with two days' notice to my current employer. And while I knew going into the call center that I wouldn't be a lifer, I felt absolutely terrible. I ummed and ahhed my way through a verbal resignation, hanging my head as I handed over a poorly written notice letter. Was my manager surprised? Not one bit. But I felt like a doof all the same and swore I'd never fumble my way through the experience again.
Example 2: A few years later, it was time for me to move on and pursue a relocation opportunity in New York City. This dream of mine was finally going to happen, but I had to go through the nightmare of resigning first. This time, I was able to give plenty of notice — I just wasn't sure if my employer would grant it to me or send me packing that afternoon. What happened, instead, was a somewhat more coherent resignation speech and letter to my VP, plus a personal Facebook post that evening announcing my relocation. I didn't specify whether or not I was leaving my company (we had an NYC office), and my post was not visible to non-friends. I came into work the next morning to a message from my VP, asking to see me. They were upset because they "hadn't accepted [my] resignation." They lectured me about the importance of social media and not burning bridges, but I remained baffled. I'd already signed paperwork with my next employer, and felt I'd done my due diligence by giving as much notice as possible. I hadn't disparaged my employer in any way, shape or form; and someone had clearly shared my post with my VP for them to even see it. My heart beats rapid-fire even now, more than four years later, at the thought.
If only I'd had these articles to guide me then!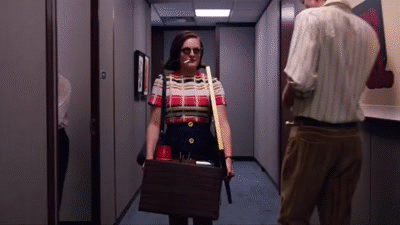 Romantic breakups aren't much easier, I've found. While I'm more often the dumpee than the dumper, it doesn't feel good to be on either side. I've learned to focus on my own needs, while avoiding the "It's not you, it's me" babble. Wanting to part ways with them doesn't make them terrible (necessarily); it makes them not right for me. And with hindsight always being 20/20, it's safe to say that both parties in a breakup will eventually find the relationship had to come to an end — better sooner than later, right? Right.
I believe it was in Aziz Ansari's "Modern Romance," and if not, he's getting credit anyway: Break up with someone how you'd want to be broken up with. Don't be a dick, and relationship karma will reward you, because getting dumped unceremoniously suuucks. PS: Maybe it's the term "dumped" that makes it all the more painful. Let's find a different word for that.
Some more helpful tips:
Finally, there's confronting a friend without ruining the friendship. Oof.
This, again, has been a struggle for me through the years. I'd like to think I've gotten better — in large part, because my career consists of giving and receiving critical feedback — but it's still a hard thing to do. No one wants to make their friend feel like garbage when you're expressing an opposing opinion or critical callout.
A recent example comes to mind: I knew one of my very best friends, whom I love and respect dearly, was planning to vote for Trump. I wholeheartedly disagreed, avoided the topic and figured we'd all laugh about this in a few years.
As the election drew nearer, then came to a close, I knew I had to say something. We live in different time zones and have opposite work schedules, so we often text first anyway to make sure the other can talk.
I approached her, first and foremost, with positivity. Our text history is too long to revisit, but I recall the conversation going something like this:
Me: I love and respect you and hope this doesn't sound rude, but can you help me understand why you're voting for Trump?
Her: Haha [laughing because she knows I wrote and rewrote that 20 times before sending]
Her: Explains her reasoning, which is thoughtful and not accusatory of Clinton — or me
Me: I appreciate you letting me ask… Explain my viewpoint, again without accusation or hate speech
Her/Me: When are we getting together next?
Crisis averted. We don't need to have the same viewpoints to remain friends, although some of my peers disagree with that very statement. For me, our friendship is too valuable to let this end it — and if I do, I have a hell of a lot of family members to dissociate from.
Some ideas to manage the message:
Phew! If you made it this far, I hope you've learned something or maybe even laughed a little.
Again, if you've mastered any or all of these techniques: Please comment with your tips and tricks!