Tag Archive | galentine's day
I thought it'd be fun to capture each month's activities and milestones in a series called Witty Rewind. It may not be for posterity's sake, but I hope you'll enjoy looking back at the previous month with me.
After my Whole30 high, I sadly slipped back into some old habits. It's to be expected given my "all or nothing" attitude, but I also tried not to beat myself up too much for it. I saw some weight gain after reintroducing bread and cheese, and I scaled back on formal workouts to focus more on a StepBet at work. I feel OK, but I'll be experimenting with a "clean eating on weekdays" approach for March. [Miles walked: 88.29]
I slowed down on reading considerably, as I've had to use my morning commute more for actual work time. That said, I've still enjoyed devouring a mix of fiction and nonfiction, from beach reads to heavier topics. Find me on Goodreads to see the latest! [Books read: 5.5]
Some highlights from the shortest (but most social) month:
Line dancing at The Saddle Rack for a dear friend's birthday

Waking up the next morning to continental breakfast and a

PANCAKE MACHINE

Hosting a Super Bowl party for that snoozefest of a game

Volunteering

with the Junior League of SF and AOII alumnae group

Lunching with former colleagues on the rainiest day possible

(Not a highlight) Being knocked out with exhaustion and missing two events

Attending a JLSF yoga class for

Galentine's Day

Finding a new dentist who didn't lecture or belittle me

Brunching with friends… and getting a peep show from an exhibitionist neighbor

MONSTER JAMMING

for the fourth consecutive year

Starting the apartment hunt with one of my current roommates

Hosting Book Club as we discussed "The Last Mrs. Parrish"

Seeing

"FRIENDS LIVE!,"

a drag parody of the iconic sitcom

Celebrating the Lunar New Year parade from our annual Irish pub spot

Toasting to many birthdays, engagements, babies, and work accolades
That about does it for me. Can you believe it's already March?! Madness, I say 😉🏀
☠️ MONSTER JAM with one of my faves ☠️
It's the highest holy day known as Galentine's Day and silly me neglected to prep this post ahead of the festivities. Between an 11-hour workday, making Valentine's for co-workers, a girls' night out at yoga and a recurring broken circuit, I do solemnly swear it wasn't my intention to leave you hanging.
So here are a few Galentine's gifs to get you in the spirit, even if the day is almost over (slash already over for East Coasters). Here's hoping you're celebrating all the fabulous gals in your life, near and far!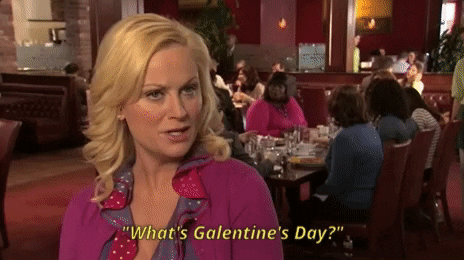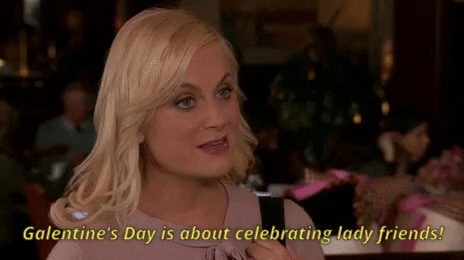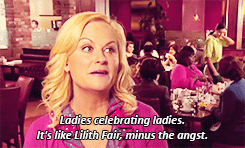 And speaking of national holidays, my college bestie reminded me of today's other important holiday: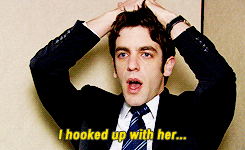 Happy anniversary, Ryan & Kelly!
Between GRAMMY Awards, the pope resigning, Mardi Gras and Ash Wednesday, it's already been an eventful week! Oh, and VD Day is tomorrow. Joy of joys — I'll be celebrating this Galentine's Day with my truest loves: Mark West and '90s rom-coms.
This Article: Many thanks to Thought Catalog for providing "15 Things to Keep Doing In Your 20s," an undeniably selfish manfiesto for my generation to follow. Because we only get this decade to use "figuring it out" as an excuse.
Macy's Go Red: Use hashtags for good and tweet, pin, post or share something red with #MacysGoesRed. Macy's will donate $2 to the American Heart Association's Go Red for Women cause every time — up to $250,000.

"Bossypants": Of course, Tina Fey is synonymous with smart humor. I finally got around to reading her much-celebrated book and devoured it in two short sittings. If you haven't already, treat yo'self to it!
Kid Weatherman: Just try to make it through this delightful forecast without bursting into laughter. My personal favorite? His enthusiasm for the upcoming Cub Scout winter camp weekend.
Images courtesy of: Forbes,  The Mom Buzz, Entertainment Weekly, BuzzFeed