Tag Archive | got
MILD SPOILERS AHEAD. So if you didn't see last night's GoT, just wait until Wednesday for your regularly scheduled WO.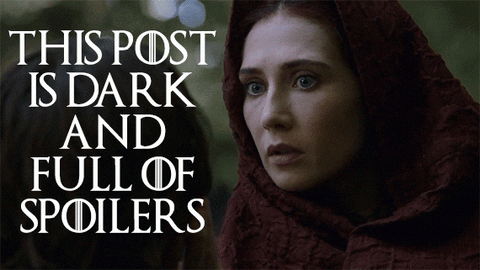 …
…
…
OK so my roommate has only seen one episode of Game of Thrones (S8:E1). She watched it because she thought it was the finale. Precious child. She had no idea what she was getting herself into!
We watched last night's episode, aptly named "The Long Night," after hours of clearing out the old apartment with our former roommates.
While settled in a camping chair (me) and a pillow fort (her), here are some actual highlights of her watching and me explaining, and us both freaking out:
OMG!
He's so hot
Wait, I don't get it
I don't want any of them to die! (said thrice in a row, plus more)
Ahh!
Fuck! (lost count)
I can't watch! (lost count)
This is scary!
Who's he?
Why would she be executed?
She killed a little girl?!
Like I feel bad for these characters…
It's 90 minutes?!
Isn't he a eunuch?
Is that the zombie dragon?
There's THREE episodes left?!
What's left to cover after this?
Oh Cersei is going to die
Cersei is so going to die
Who's she?
No, not the little girl!
Fire doesn't do anything?
What are they doing?
Fuck they're scary
I'm scared
GASP!
YES ARYA
NO DAENERYS
He loves her (said multiple times in a row)
Are they in love?
Who's that?
Why'd she do that?
Wow (lost count)
Just wow (lost count)
Well, well, well. If it isn't somehow already another Wednesday — the last in April, no less. If you've been here at all the last few weeks you know I've been drowning in the river of chaos. And while I'm not completely out of the woods yet (are we outta the woods?) I do see light at the end of the tunnel. How many nature metaphors can I use in one post?
Canva: Yes, part of my job now is to research and test awesome apps. But I've been in love with Canva for quite a while and couldn't believe I hadn't mentioned it here yet. Beyond easy and fun templates for social media, you can also design your own invitations, presentations, flyers, and business cards. I still prefer to do so on the app, but the website is also pretty stellar.
Giphy: Another great way to express yourself? With gifs. Yes, I switched to the proper "jif" pronunciation but then I judged myself so hard I switched back. If you use Slack or work in tech you've probably already discovered all of the magical /giphy combos to behold. It's endlessly fun (and distracting), so please Giphy responsibly.
GoT Final Season: Well it wouldn't be right if I failed to cover arguably the biggest pop culture moment of the year. With just four episodes left, "Game of Thrones" is giving us all the feels and all the reasons to watch. every. second. I spiraled reading a few fan theories and am decidedly done — my heart can't take anymore. #DanyForever
"Jenny of Oldstones" – Florence + The Machine: SPOILERS SUPPOSEDLY.
Still there?
So I haven't spiraled into reading these theories, because I just love the song and don't need to have it ruined. This original tune was in Sunday's episode and sung by Daniel Portman (AKA Podrick Payne). His voice is beautiful! Then the end credits rolled and I was haunted by Florence + The Machine's version. Seriously, chills. #NerdAlert
Images courtesy of: Canva, Giphy, TIME via Helen Sloan/HBO, Harpers Bazaar