Tag Archive | how to
In honor of my upcoming 30th birthday, I've researched countless "things to do before 30" lists. And while there are plenty to choose from, I kept coming back to "Thirty Things Every Woman Should Have and Should Know by the Time She's 30."
The List was originally published in Glamour by columnist Pamela Redmond Satran in 1997. Over the next 30 weeks, I'll be tackling each item on The List and reflecting about it here… publicly (gulp). I hope you enjoy and we can grow together. After all, turning older is a privilege denied to many.
By 30, you should know…
18. How to quit a job, break up with a man, and confront a friend without ruining the friendship.
Well isn't this week's List item just a bowl of sunshine?
I could keep my response as brief as this: If you've mastered any of these techniques, please let me know.
Instead, I'll do as I do, and share a few (mostly unsuccessful) experiences of my own…
My parents taught us to never quit — if you commit to something, you see it through. So perhaps this lack of practice in my adolescent years could explain why I'm quite awful at quitting a job.
Example 1: I left my college retail job for a call center job (making double what I did at the mall), only to confirm within a few weeks that I was not meant to be in customer service or scripted phone calls. I was very fortunate to find an external role just two months later, which put my degree to use and was sure to grant me more success. The problem? I needed to start with two days' notice to my current employer. And while I knew going into the call center that I wouldn't be a lifer, I felt absolutely terrible. I ummed and ahhed my way through a verbal resignation, hanging my head as I handed over a poorly written notice letter. Was my manager surprised? Not one bit. But I felt like a doof all the same and swore I'd never fumble my way through the experience again.
Example 2: A few years later, it was time for me to move on and pursue a relocation opportunity in New York City. This dream of mine was finally going to happen, but I had to go through the nightmare of resigning first. This time, I was able to give plenty of notice — I just wasn't sure if my employer would grant it to me or send me packing that afternoon. What happened, instead, was a somewhat more coherent resignation speech and letter to my VP, plus a personal Facebook post that evening announcing my relocation. I didn't specify whether or not I was leaving my company (we had an NYC office), and my post was not visible to non-friends. I came into work the next morning to a message from my VP, asking to see me. They were upset because they "hadn't accepted [my] resignation." They lectured me about the importance of social media and not burning bridges, but I remained baffled. I'd already signed paperwork with my next employer, and felt I'd done my due diligence by giving as much notice as possible. I hadn't disparaged my employer in any way, shape or form; and someone had clearly shared my post with my VP for them to even see it. My heart beats rapid-fire even now, more than four years later, at the thought.
If only I'd had these articles to guide me then!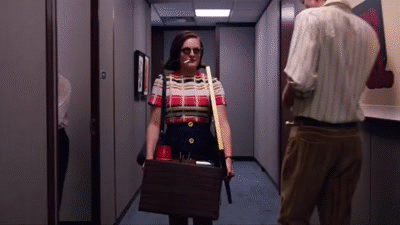 Romantic breakups aren't much easier, I've found. While I'm more often the dumpee than the dumper, it doesn't feel good to be on either side. I've learned to focus on my own needs, while avoiding the "It's not you, it's me" babble. Wanting to part ways with them doesn't make them terrible (necessarily); it makes them not right for me. And with hindsight always being 20/20, it's safe to say that both parties in a breakup will eventually find the relationship had to come to an end — better sooner than later, right? Right.
I believe it was in Aziz Ansari's "Modern Romance," and if not, he's getting credit anyway: Break up with someone how you'd want to be broken up with. Don't be a dick, and relationship karma will reward you, because getting dumped unceremoniously suuucks. PS: Maybe it's the term "dumped" that makes it all the more painful. Let's find a different word for that.
Some more helpful tips:
Finally, there's confronting a friend without ruining the friendship. Oof.
This, again, has been a struggle for me through the years. I'd like to think I've gotten better — in large part, because my career consists of giving and receiving critical feedback — but it's still a hard thing to do. No one wants to make their friend feel like garbage when you're expressing an opposing opinion or critical callout.
A recent example comes to mind: I knew one of my very best friends, whom I love and respect dearly, was planning to vote for Trump. I wholeheartedly disagreed, avoided the topic and figured we'd all laugh about this in a few years.
As the election drew nearer, then came to a close, I knew I had to say something. We live in different time zones and have opposite work schedules, so we often text first anyway to make sure the other can talk.
I approached her, first and foremost, with positivity. Our text history is too long to revisit, but I recall the conversation going something like this:
Me: I love and respect you and hope this doesn't sound rude, but can you help me understand why you're voting for Trump?
Her: Haha [laughing because she knows I wrote and rewrote that 20 times before sending]
Her: Explains her reasoning, which is thoughtful and not accusatory of Clinton — or me
Me: I appreciate you letting me ask… Explain my viewpoint, again without accusation or hate speech
Her/Me: When are we getting together next?
Crisis averted. We don't need to have the same viewpoints to remain friends, although some of my peers disagree with that very statement. For me, our friendship is too valuable to let this end it — and if I do, I have a hell of a lot of family members to dissociate from.
Some ideas to manage the message:
Phew! If you made it this far, I hope you've learned something or maybe even laughed a little.
Again, if you've mastered any or all of these techniques: Please comment with your tips and tricks!
After much hemming and hawing, I finally joined the "social networking," AKA laziest dating app ever, Tinder.
And since I've been on it for about 48 hours, I'm basically an expert. Check out this fancy infograph and get ready for some harsh truthbombs.
So, I'm like Cameran from "Southern Charm" (and "Real World: San Diego," but that's another story): I've been sent from the heavens to help all you turds.
See? We're basically twins.
Before we begin, I insist — for the first time in my life — that you listen to Kesha & Pitbull.
Step 1: Set up your profile properly.
You can add up to six photos from your Facebook account, so choose wisely.
The first/default picture should be a clear, well-lit shot of just you. If you're in a group of guys, I have no idea which one you are. If you're with kids, I don't know if they're yours or someone else's. If you're pixelated, I can't tell if your face is blurry or it's just your shit phone.
Your other photos can include those things, but keep in mind: This is a shallow service and we're going off first impressions. Many girls will not swipe through to see more if they're scratching their heads on photo #1.
Other tips for selecting photos:
Don't have pics with a bunch of seemingly random girls; you're trying to DATE someone new and we don't know them or your history
Include a full-body shot and don't get pissy about it — this is a two-way street
Vary the content, unless you wear a polo and have a drink in hand at all times … we'd like to think you're a little more complex than that
Animals are featured often — nothing wrong with it, but don't be that guy who "shows off" his dog to make a girl swoon
I just want to be her best friend.
Step 2: Don't ruin those carefully selected photos with an awful "About" section.
I write for a living, so just shut up and listen.
Most people don't read (I'm set for life, clearly). So don't use 500 characters as an open invitation to tell your life story or hate on "why women swipe Yes but don't message" you.
Bottom line: Forget writing a novel, throwing shade or misquoting an outdated movie. If I read one more "My apartment smells of rich mahogany lol," I will lose it.
I've seen a lot of guys link to their other social accounts — namely Instagram — and who list their height. I'm not necessarily against either, but keep that username in mind when sharing with a potential lady friend. Read: bang_gang69 is not attractive.
Step 3: You're matched! Don't be an idiot.
Congratulations! You've picked decent photos and didn't scare her off … yet. Now, don't screw it up.
I'm not super-old school, but I do think guys should feel confident within this app to send the first message after matching. It shows self-assuredness and a willingness to be the first man she's met who isn't scared to approach her.
Make an observation about one of her pictures … not her boobs, but ask what's in the drink she's holding or what song she was dancing to.
Ask how her day is going, or what she would be doing on a normal [insert day] if she weren't on Tinder.
Anything but "Hey," "What's up?" or something wildly offensive should work.
The beauty of Tinder is how non-committal it is. You swipe and swipe and swipe, and hopefully your battery dies before you seriously embarrass yourself or kill your chances.
Despite my self-proclaimed expert status, I need to know: Am I missing any tips? Let me know in the comments — and happy hunting!
I'm not the handiest of girls when it comes to DIY. The closest I get to "do it yourself" is "pay someone to do it for me and take credit for it later." I've found a natural talent, though, and so I present my first ever how-to: not vomit on your desk.
Before you know it, you'll be clocking out and vomit-free! Here's how:
1. (A pre-project requirement) Get rip-roaringly drunk on a "school night." Can't remember your name? Good.
2. Text your mom at 1:30 a.m., requesting a wake-up call. This is key; you can't rely on four preset alarms.
3. Grumble to your mother some six-point-five hours later that you're awake. Forget to thank her for saving your ass.
Done and done.
4. Skip the shower, the makeup and all effort normally associated with work preparation. Well, brush your teeth — you're not an animal.
5. Arrive at work in a haze, and then promptly head to Starbucks for a bagel and iced coffee. If you don't work within walking distance of a Starbucks … oh, who am I kidding?
6. Put on a nice playlist — only soothing music will do. Adele is a must, as are Imogen Heap and Ingrid Michaelson. Stay far, far away from Adam Levine.
Don't forget BBMak … duh.
7. Avoid all interactions with co-workers. They will only serve to annoy you, especially the crunchy lasagna guy.*
8. Cross your fingers for a space-time continuum, in which the hours pass like seconds. When that fails, cry to yourself a little.
9. Scheme with friends (note: people with whom you work and can actually stand) about which bars to hit later. If it's Monday–Thursday, start again at step 1. If it's Friday, no need to repeat the process!
See how easy that was? 9 steps later, and you conquered the workday like a boss.
Bonus video of the boss who helped revolutionize hip-hop: R.I.P. MCA
*An additional step, for the less fortunate than moi: Dry heave in the ladies' room, silently praying the girl in the next stall judges you less for the gagging and more for your desperate need of pedicure.