Tag Archive | parks n rec
It's the highest holy day known as Galentine's Day and silly me neglected to prep this post ahead of the festivities. Between an 11-hour workday, making Valentine's for co-workers, a girls' night out at yoga and a recurring broken circuit, I do solemnly swear it wasn't my intention to leave you hanging.
So here are a few Galentine's gifs to get you in the spirit, even if the day is almost over (slash already over for East Coasters). Here's hoping you're celebrating all the fabulous gals in your life, near and far!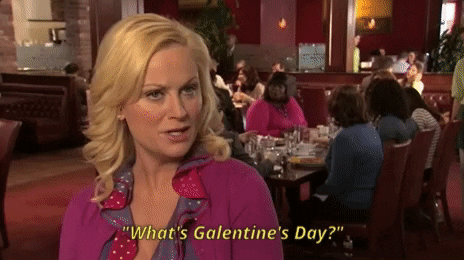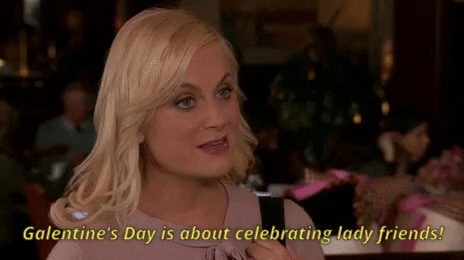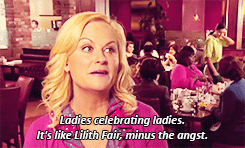 And speaking of national holidays, my college bestie reminded me of today's other important holiday: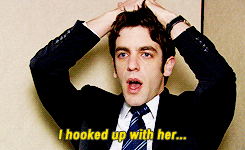 Happy anniversary, Ryan & Kelly!
In case you're not FB friends with Magz and haven't seen her weeklong countdown … it's my birthday tomorrow! It kind of snuck up on me, probably because I've been packing every weekend with funtivities and nearly forgot to pay rent this month. Adulthood.
27 Ways to Be as American as Ron Swanson: Because, 'Merica. And though I can't grow a moustache like his, my mere existence is defined by #22. I'd say that's a fair trade.
Pie Face: My cubemate introduced me to this sweet and savory shop yesterday and I'm already hooked. I can't wait to indulge in an all-American apple pie & caramel smasher tomorrow!
Macy's 37th Annual 4th of July Fireworks: Shameless plug? Sure, why not. Hosted by Nick Cannon, this year's show features his wifey, plus Tim McGraw, Taylor Swift and Selena Gomez. Like, OMG.
"The Remedy" – Jason Mraz: OK, I totally admit to loving this song simply because it opens with " … fireworks from the freeway … 'cause you were born on the 4th of July, freedom ring." So sue me!
Hope you all have a safe and happy 4th!
Images courtesy of: BuzzFeed, Pie Face, Christian Today, ManiaDB
We've been working on a high-priority project, and I'm naturally rocking it like a hurricane. My Creative Director needed copy for a mock-up of different sales we offer, including one with the (fake) promo code TREAT.
My Parks & Rec inspired suggestion? TREAT YO'SELF.
It's been weeks, and I still say it like they've never heard it before.
Because it's hilarious.
And you gotta celebrate small victories in the workplace.
At least I'm not getting kicked out of the MTV Movie Awards for these antics, right?