Tag Archive | party
Before we jump into this week's four finds I have to take a moment and celebrate: Today's post marks the FOUR-HUNDREDTH WO!! That's right, you get a double exclamation celebration! It's hard to believe this concept and ultimately, this blog, has been around so long, but it wouldn't be possible without your support. Cheers to that!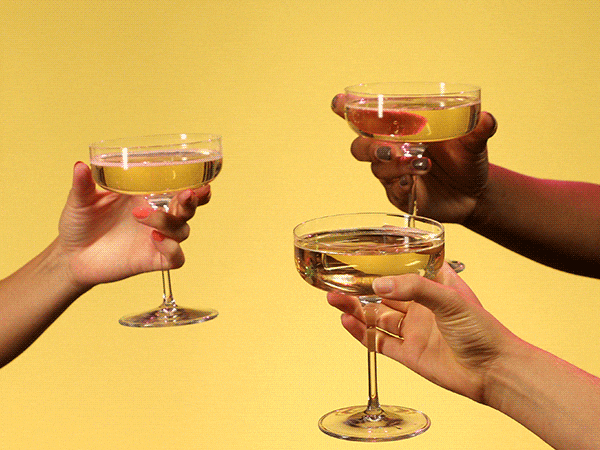 "Bodega Bathroom":

Not an actual bodega bathroom, no. But the hilariously oddball and perfectly

fantastic sketch from last week's SNL

. John Mulaney's past hit of "Lobster Diner" meets its match with this all-out musical marathon. Words won't do it justice. Just watch.

Luke Perry:

On a much more serious note, actor Luke Perry died Monday after suffering a massive stroke just days before. He was 52. And while I've certainly enjoyed his resurgence with his role on "Riverdale," I could never forget how instrumental he was for all us "90210"

and

"What I Like About You" fans. I can't imagine how the Perry family feels with such a devastating shock.

Lent:

There's no easy segue to the next topic on my mind, as the Lenten season is upon us. I'm holding out for tonight's 7:30 mass and looking forward to one of my all-time favorite choral songs, "Ashes." No matter what you sacrifice or start doing (or if you don't celebrate at all), I'm wishing you peace, love and joy over the next 40 days.

"Don't Threaten Me with a Good Time" – Thomas Rhett f. Little Big Town:

You know when you hear a song that speaks to you on just about every level? This does that for me. Partially because it mentions Wednesdays, partially because there's a shout-out to my hometown (DAYTONA!), partially because Thomas Rhett is a national treasure. He

debuted this and another song on SNL

, giving my fave show yet another leg up.
I'm slightly less cranky this week, even though I had a near meltdown at lunch today when the only non-salad, milk-free option was gone. I'm counting down until Whole30 is done and can't wait to share my results with you! I promise, it's been worth it — even if I do cry over spilled soup.
Nels Beauty Salon:

Have you ever wanted to step inside Hello Kitty's house or Barbie's salon? Nels is about as close as you can get in San Francisco, and I had no idea. My friend had a Groupon for a gel manicure, so I made an appointment for myself. From the decor to the brushes and hot-stone elements, it was easily one of the best manicures I've ever had.

Izakaya Kou:

Another gem I recently discovered was this Japanese restaurant with a cozy, yet upscale, vibe. I've been grateful for any sashimi and nagiri during Whole30, and their hamachi carpaccio did not disappoint either. Although a bit pricey, this is would be a great date spot or girls' night out option. Cheers to that!

Yoga for CFF:

Tonight, I'm proud to support my good friend and her work with Tomorrow's Leaders in the Cystic Fibrosis Foundation. We'll be attending a yoga class downtown, with all proceeds benefiting the CFF. While I'm not closely connected to anyone fighting this disease, I couldn't be more touched by what my friend does in honor of her strong sister.

Gasparilla Invades SF:

It's that time of year again! Tampa Bay's finest tradition comes to this Bay Area via my self-imposed celebration. The Buccaneer staff won't know what hit 'em, even with this being the third(? fourth?) year in a row. I've got the beads, temporary tattoos, bandanas and beads in tow — ARRRRGH ya ready?
Images courtesy of: Yelp, Trip Advisor, YouTube, Trip Savvy
I have to keep this week's obsessions rather short and sweet — because I'm on vacation and refuse to spend any more time online than necessary.
(and 2, 3 and 4) FLORIDA LOVE: I'm in Florida for a dear friend's wedding, and the festivities begin with tonight's Bachelorette Party. Tomorrow, we'll lounge by the pool, and then Friday will be the big day! I couldn't be more excited to celebrate Jamie and Chris, and I'll get some QT in with the family. Win-win-win.
Since I'm kinda leaving you guys hanging, here's one of my favorite songs that always reminds me of home. Enjoy 🙂