Tag Archive | the office
It's the highest holy day known as Galentine's Day and silly me neglected to prep this post ahead of the festivities. Between an 11-hour workday, making Valentine's for co-workers, a girls' night out at yoga and a recurring broken circuit, I do solemnly swear it wasn't my intention to leave you hanging.
So here are a few Galentine's gifs to get you in the spirit, even if the day is almost over (slash already over for East Coasters). Here's hoping you're celebrating all the fabulous gals in your life, near and far!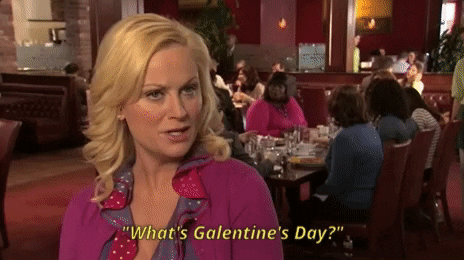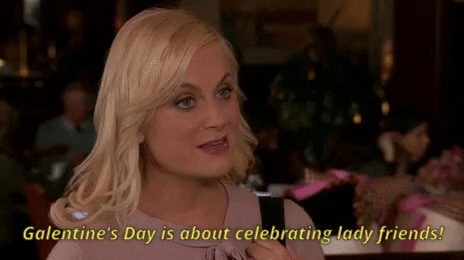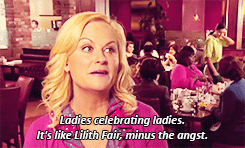 And speaking of national holidays, my college bestie reminded me of today's other important holiday: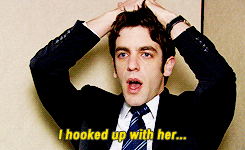 Happy anniversary, Ryan & Kelly!
My weekends have been great here. So great that I haven't had the chance to write as much as I'd like. So, one of this weekend's goals is to get a new Moleskine notebook and fill it with the ideas swimming 'round my head. Till then, here's what I can write about:
"Heathers": I'd never seen this cult classic because, well, it was released when I was a year old. But thank the TV gods for putting it on HBO this past weekend. Delightfully dark and completely crazy — it's added to my ever-growing list of favorites.
Charles Esten: I enjoyed his appearances on "Whose Line Is It Anyway?" but didn't follow his career. #pre-IMDb problems. Then Josh, Stanford branch manager from "The Office" was hot in a familiar way. He's now Deacon on "Nashville" — marry me, please?
Herald Square: We have a training at the Macy's on 34th Street tomorrow, and I couldn't be more excited. This is what being in NYC is all about: Running frantically through a sea of people just to make it to work on time. I love it.
"It Happens" – Sugarland: In true graceful fashion, I ripped my tights yesterday (right before tripping down the stairs). Wouldn't you know it? This song comes on my iPod next and I'm suddenly not so hostile. Essential to remember about life: Pssh … it happens.
P.S.: Did you guys watch "New Girl" last night?! Happy happy, joy joy.
Images courtesy of: Draft House, IMDb, Forbes, The Boot
Today was suuuch a Monday.
I had to work. On Presidents' Day. And, I lost my badge.
My fists clenched every time my obnoxious cubemate opened his mouth or typed
… or breathed.
I stepped in a "present" from my niece.
Think I'll follow Alexander's lead and move to Australia.