Watching GoT with my roommate who's only seen one episode
MILD SPOILERS AHEAD. So if you didn't see last night's GoT, just wait until Wednesday for your regularly scheduled WO.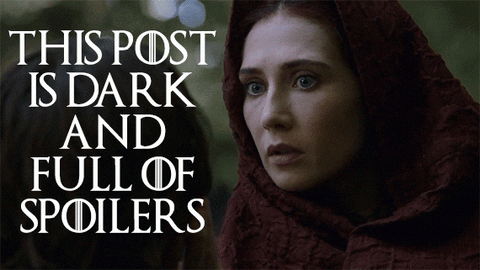 …
…
…
OK so my roommate has only seen one episode of Game of Thrones (S8:E1). She watched it because she thought it was the finale. Precious child. She had no idea what she was getting herself into!
We watched last night's episode, aptly named "The Long Night," after hours of clearing out the old apartment with our former roommates.
While settled in a camping chair (me) and a pillow fort (her), here are some actual highlights of her watching and me explaining, and us both freaking out:
OMG!
He's so hot
Wait, I don't get it
I don't want any of them to die! (said thrice in a row, plus more)
Ahh!
Fuck! (lost count)
I can't watch! (lost count)
This is scary!
Who's he?
Why would she be executed?
She killed a little girl?!
Like I feel bad for these characters…
It's 90 minutes?!
Isn't he a eunuch?
Is that the zombie dragon?
There's THREE episodes left?!
What's left to cover after this?
Oh Cersei is going to die
Cersei is so going to die
Who's she?
No, not the little girl!
Fire doesn't do anything?
What are they doing?
Fuck they're scary
I'm scared
GASP!
YES ARYA
NO DAENERYS
He loves her (said multiple times in a row)
Are they in love?
Who's that?
Why'd she do that?
Wow (lost count)
Just wow (lost count)